One of the biggest sustainability projects we took on was to install a hydro electric turbine on the river running alongside us. We installed a 220 kilowatt hydro turbine. When the river is in full flow, we are getting 100% of our electricity needs from the river, a clean, sustainable, renewable energy source. In doing so, we have dramatically reduced our dependency on carbon fuels, to the point where we are now a carbon neutral property. We are the only hotel in Ireland to generate our own sustainable electricity in this manner.
GreenHospitality.ie
We are members of GreenHospitality.ie and have achieved their EcoLabel accreditation. This programme is the Hospitality, Travel & Tourism Resource for Sustainable and Responsible Tourism in Ireland. We are dedicated to supporting the industry in continually minimising their impact on the environment.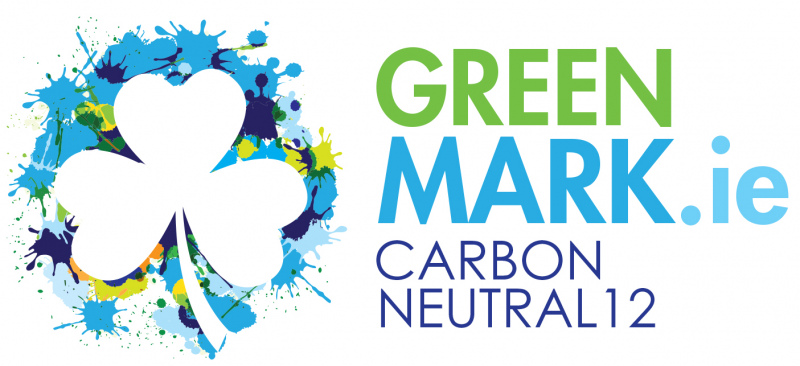 In March 2021, we were certified as a carbon neutral property by GreenMark.ie through Green Hospitality Ireland. The certificate states that; 'The hotel has achieved a carbon neutral status for Scope 1 & 2 and other direct emissions through the implementation of a comprehensive carbon reduction programme (Carbon Smart), investment in energy efficiency, the use of renewable energy plus carbon offsets'. In a five year period, through our green initiatives, we reduced our carbon emmissions by approximately 90%. The moment you arrive on our 50 acre property, you are reducing your own carbon footprint!
We pride ourselves on sustainable development and strive to become as self sufficient as we can. The management and all our staff are dedicated to conducting business in a manner that reduces our impact on the environment.
Our core green principles are:
Efficient use of energy, Conservation of water, Waste Reduction, Prevention of Pollution, Staff & Guest Awareness, Introduction of state of the art eco- friendly energy production methods
Not only are we dedicated to becoming "greener", but we have encouraged all our staff, contractors and suppliers to become involved also.
We are doing the above through the following measures:
We use 100% renewable electricity, generated primarily from our own hydro electric turbine

We purchase 100% Calor BioLPG fuel

The hotel monitors water consumption on a monthly basis to detect leaks

We have tap aerators installed in all our bedrooms to regulate the amount of water used by guests

Our showers and toilets in the leisure centre are sensor operated

We have push taps in the public toilets in the hotel

The urinals in the gents' toilets are controlled by a sensor to reduce the water consumption

The hotel monitors its use of chemicals to try to reduce them year on year and where possible, we use eco cleaning products

In our bathrooms, we use products from the Co Meath based Handmade Soap Company.

We refill individual soap & shampoo containers, there are no single use plastics in our bedrooms.

We have a towel reuse program in each of our bedrooms

We have recycling bins in our guest bedrooms, giving guests the opportunity to recycle their waste

All of our hand paper towels and toilet paper is Lucart Eco Natural recycled paper

We use LED bulbs exclusively throughout the hotel

We recycle our light bulbs with weee Ireland

We have recycling points for batteries at the reception and at the desk in the leisure centre

We do not sell any plastic bottles in our bar

Our take away containers are compostable

Our coffee and tea is Fairtrade

All our hotel correspondence, including reservation confirmations and invoices are e-mailed to reduce the use of paper

Our kitchen monitors food waste so we can try to use up food before it goes off

The kitchen also monitors the waste coming back on guests' plates to see how we can reduce this

All our waste is collected by authorised operators who have provided us with their permits

We are members of Repak Ireland

We are supporters of, and inform our guests of the principles of Leave No Trace

We regularly partake in community litter pick ups

We have two electric car charging points on site

We have bikes available for guests's use - a great way to get to Lahinch!

We have a dedicated wildflower garden on our property.

We also have two active beehives
LEAVE NO TRACE IRELAND
Leave No Trace Ireland is a network of organisations and individuals with an interest in promoting the responsible recreational use of the outdoors. As increasing numbers of people seek the beauty and exhilaration of outdoor recreation, our collective mark on the environment and its natural processes, increases.
At the heart of Leave No Trace are seven principles for reducing the damage caused by outdoor activities. These are:
• Plan Ahead and Prepare
• Be Considerate of Others
• Respect Farm Animals and Wildlife
• Travel and Camp on Durable Ground
• Leave What You Find
• Dispose of Waste Properly
• Minimise the Effects of Fire
To learn more about the Leave No Trace programme, click here